Recently, Centric General Contractors performed construction services for the Solage Hotel and Resort in Calistoga, California. The project required a 2,000sf kitchen and bar renovation of Michelin Star-rated restaurant, SolBar. Work also entailed building a 40-seat courtyard for year-round outdoor dining and a 2,700sf addition to existing spa buildings. Just imagine a team of construction professionals, armed with hammers and power tools, performing required work without disrupting luxury resort guests and staff. No stress, right?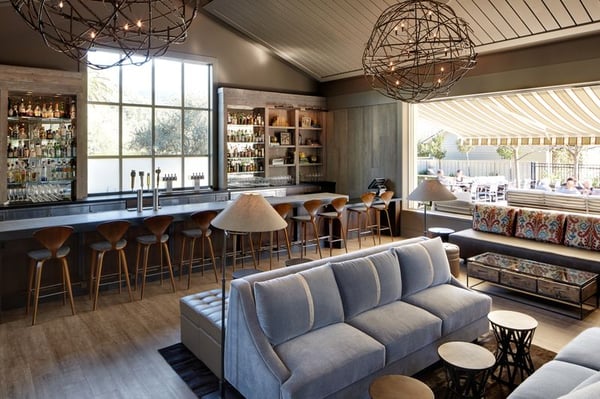 When we were initially rewarded the project, it was clear we were a part of a team that was keenly aware of the unique challenges associated with a resort expansion project. Performing work within an operational resort within a small window of time while dealing with unknown conditions and a predetermined budget can prove to be difficult. We were pleased to be a part of team that possessed prior hotel and resort experience and ready to work together on devising a plan for expansion. So what was our secret to success? In one word, the answer is balance.
The key area success for the Solage Resort and Spa was a careful balance between the following:
Solage provided a clear project vision and objective: A clearly defined vision and objective involves identifying the critical elements required to keeping the project on track. Objectives included transforming and refining SolBar's ambiance, adding a Chef's Atrium for private dining, and expanding the restaurant's state-of-the-art kitchen to expedite services, and new addition to the resort's spa. The project vision, objective and scope of work needed to be completely captured in order to develop a project plan.
The Solage team collaboratively developed a plan for meeting and adhering to the project's required schedule, budget and quality expectations. A well-thought and reliable plan was developed to consider both existing resort operations and construction activities to ensure a smooth phasing and transition. When you work together as a team to develop the project plan, you also hone in on the project budget. Considerations for alternatives that may result in savings without compromising the design intent were made. As a team, we worked together to drill-down on the project details before work was actually performed to ensure a successful outcome.
The Solage team needed to make many considerations with regard to schedule. The schedule needed to thoroughly assess the resort's property logistics, design, bid work and work completion. Resort guests and operational staff would be on the property during construction; the team needed to develop a logistics plan to meet the time frame that would safely allow safe passage during construction operations. The schedule also needed plan for actual, fast track construction hours to ensure minimal downtime. The final schedule was then communicated to all parties to ensure little to zero disruption to resort activities. There was really no room for error.
Solage requirements for quality needed to be established early. When a team is working with a resort brand, let alone a Michelin Star-rated restaurant, they need to clearly understand the required final product. Designer Shirley Robinson, principal of San Francisco and St. Helena based Robinson Finishes, provided a complete refresh to Solage's SolBar. In describing the restaurant's design refresh, she says, "SolBar was an unusual commercial restaurant project because it is a world class hotel, a Michelin Star-rated restaurant, as well as a private members club. The design in the space had to feel casual enough in the morning for breakfast and chic and intimate for dinner, all in keeping with the Napa Valley aesthetic."
The end product needed to address the project's unique requirements. The SolBar interior lounge and dining areas required upholstered walls, custom-built partitions made from reclaimed wood, and oversized multi-paned windows to create intimate settings for both areas. Customized paint colors were blended to reinforce the earthy palette typically associated with the Napa Valley. Globe-shaped lighting formed from elm branches now hang between both the lounge and dining areas. All furniture was custom-built for the space. The Chef's Atrium, entailed a private, open-air dining room, lit by aged bronze lanterns and featured a hand-made wine bottle wall using over 500 cut bottles, all installed on-site.
The spa expansion features a hand-glazed, antique ceiling, white-waxed Venetian plaster walls, and one wall entirely installed with Capiz shells. All spa furniture was custom. When describing the spa addition, Ms. Robinson says, "The spa was a ground up build. Howard Backen was the architect and one of my favorite architects in the country. The spa was done in values of white and silver. A glamorous feel for the Valley and yet super crisp befitting a world-renowned spa. Super lush fabrics and comfortable custom lounge seating."
This level of quality requires complete and detailed construction documents, a tremendous level of accountability, keen understanding of the current site conditions, identification of the right tradespeople, swift execution of procurement methods, and attention to how the resort's condition shall be maintained during construction.
The construction work and staging areas needed to be safe, clean and maintained. When resort guests and staff are going to be within proximity of the work area, there needs to be barriers and proper signage to ensure safety. The area also needs to present an orderly, maintained appearance. The Solage expansion activities needed to be an extended reflection of the resort property. While these projects tend to be a bit challenging, working through a reliable site logistics plan that ensures positive guest and staff relations is a huge plus.
Linking the Solage expansion required scope of work to the objective and performance requirements. A careful balance between performing the scope of work, ensuring the highest quality of work within budget, on schedule, and without disruption needed to be achieved. It is a delicate dance and requires a lot of communication and collaboration to realize the overall project vision and objectives.
Creating a sense of peace for a resort looking to refresh and expand can be challenging. On the project's success, Centric president Tim McDonald reflects, "It was a pleasure to work with Shirley Robinson and the entire Solage team. Dealing with experienced professionals is always a key ingredient of a successful project. I am very proud of the Centric team that guided the demanding project criteria to fruition. We look forward to future projects with both Shirley and Solage."
Cheers to the Solage Resort Expansion team on a job well done!