Plan your next custom home remodel project with these exciting apps! Whether you're completely transforming your home or making a few updates, you'll want to make sure your renovation or addition is performed correctly.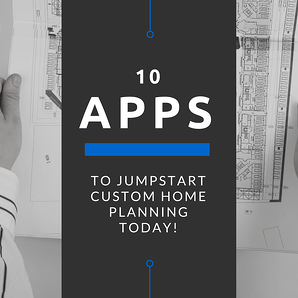 This post offers up a great list of apps to help you:
Gather ideas for your ideal space
Consider home's layout and traffic flow
Gain a 2D or 3D perspective
Situate the space with furnishings
Visualize different material options
Perform material quantity calculations
Develop an initial project budget.
Go through the list and gather the tools you'll need to make your dream home a reality!
---

Home Design 3D, Anuman
This app allows you to intuitively design and change your home. Whether you want to redecorate, redesign or create the home of your dreams, this app gives you the perspective you need. Features include: Ability to draw rooms, import drawings, share plans via Dropbox, upgrade to 3D mode, choose textures, add furniture, etc. Free, Paid Option $6.99 | iOS

Room Planner Home Design, Chief Architect
This app allows you to create realistic floor plans and 3D models in minutes. You have the ability to quickly place and arrange rooms, furniture, cabinets, doors and windows. You can visualize rooms and furnishings - choose from hundreds of colors, materials, textures and 3D objects to design and decorate your room or house. Features include: accurate room measurement, drag and drop room layout, customize home design, place and resize furniture, develop floor plans, 3D visualization, develop plans with texture and color, etc. Free | iOS

Room Scan,
Locometric
This app is great for scanning single rooms Features include: Easily and quickly connect rooms and develop a floor plan, calculate measurements, add doors, choose custom floor plan colors, provides different forms of measurement. Free | iOS

Houzz Interior Design Ideas,
Houzz, Inc.
This app helps you find products curated by the Houzz editorial team and top-rated local designers, architects, contractors and other home pros to help realize your ideas. In addition, Houzz allows you to create collaborative inspirations boards to capture ideas of particular interest. Free | iOS, Android

Homestyler Interior Design, Autodesk
This app helps you to envision your interior design ideas! Just snap a photo of your space to transform your iPhone or iPad into a virtual fitting room. Try out wall colors, décor items, and furniture products from real brands. In addition, you will get information on the latest trends in how-to articles, get ideas and find inspiration from stunning interior design projects done by professional designers. Features include: snap a picture of a room to create your own 3D home design, gather ideas, get advise, connect with a professional. Free | iOS, Android

Feng Shui For Home
, beriyt
The app draws the flying stars charts with given compass directions and construction date (along with few additional options-whether to calculate using single mountain method or double mountain method or replace stars) and this final chart could be placed over your own home's layout for analyzing the results of the stars in particular sections of your house. Free | Android

Paint My Place
, Custom Mobile Apps Pty Ltd.
This app will allow you to dispose those paint swatches & sample tins for good. Virtually paint your home inside and out using real brand name paints & suggested palettes. Features include: capture and upload an image, paint with well-known brands [Benjamin Moor Paints, Dulux Paints, Farrow and Ball], select size of your brush and opacity, quickly splash on paint, enhance exterior with roof and fence finishes, etc. Free | iOS

I.D Wood
, Double Dog Studios
The standalone app works with or without an Internet connection so that the samples and information are always at your fingertips. It allows you to access wood samples with the following information: species names, botanical names, wood origins, wood descriptions, wood properties, common uses, durability, sustainability, Janka hardness. It provides a wealth of information for your woodwork. $4.99 | iOS

Convert Any Unit
, Cider Software LLC
This app is great way to convert units. Just type in a unit without first selecting the category. As you type, a list of most likely units appears. Tap a unit to select it. For most units, 1 or 2 letters is enough to find the unit you want. Save bookmarks and organize into folders with the icons at the bottom of the screen. Free | iOS
Did you download any of these apps? Did you discover any new apps along the way? Please share them with us in the comments section!
If you are starting to make calculations and want some additional resources, you also be interested in reading Awaken a Dream Life with Custom Home Planning Tips and Room For Improvement: Planning Your Custom Home Addition. Happy Planning!
---