CASE STUDY: Atlas, Jacobsen Residence
In a world focused on globalization and mechanization, many believe the beauty and wisdom of age-old craftsmanship is becoming extinct. On a daily basis, news reports tell us how robots are replacing humans in an effort to create efficiencies. With these messages proliferating our media consumption, you may ask yourself how can classic craftsmanship sustain in today's modern world?
The Atlas Residence, designed by notable architect Hugh Newell Jacobsen, is real proof skilled craftsmanship still has a place in our modern world. For just a moment, imagine yourself walking along blue stone paver pathway leading up to a pavilion-style home. Sublimely white, in true Jacobsen fashion, the single-story volumes feature gable roofs with 45-degree pitch. Entering the home you are surrounded by what feels like an expansive great room consisting of a living, kitchen and dining areas. The ethereal room is filled with light coming from the expansive window walls that frame sweeping Napa Valley vistas. The floor plan is perfectly compact with two intersecting axis, which are anchored by bedroom suites on either end of the great room.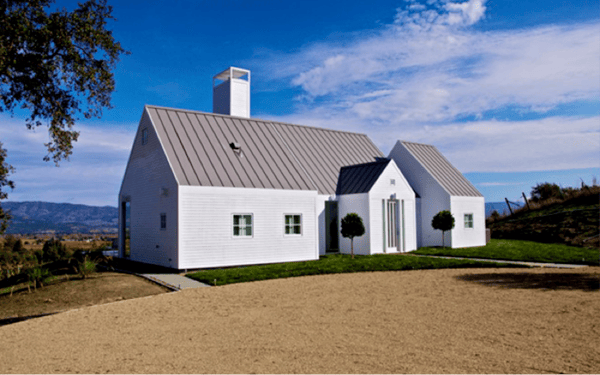 This home is not the result of any machine, or mass production. The project was born from one man's dream; Jeff Atlas longed to have a home designed by Hugh Newell Jacobsen. In a fortunate turn of life events, he was able to realize his dream and began to plan his custom home. This type of project requires building to an individual's specifications. It is about building a quality structure from human hands.
Read more about this project in a recent article from Architectural Digest, Jeff Atlas Enlists Jacobsen Architecture Design his Napa Valley Dream House.
Age-old skilled craftsmanship is required for building a range of aesthetics such as Modern, Traditional, Craftsman, European, Contemporary, just to name a few. In this case, we applied age-old techniques to meet the precise geometries typically associated with a Jacobsen design. This project is truly a labor of love for design and skilled workmanship, i.e. making sure Jeff Atlas was able to make modifications along the way as well as choose desired building materials, and home accessories that will make his home's environment sing.
Our primary focus is on quality and purchasing the appropriate building materials as required. In this case, the building's façade required crisp clapboard siding without embellishment. This scope consisting of no trim and exacting reveals allows no room for error; everything needs to line up perfectly. Placement of door pulls and switch plates were specified to be lower in height than the building standard. Design required accentuated 22-foot high ceilings and cabinetry needed to recede into the walls to pronounce a more streamlined surface and, ultimately, maximize the interior space.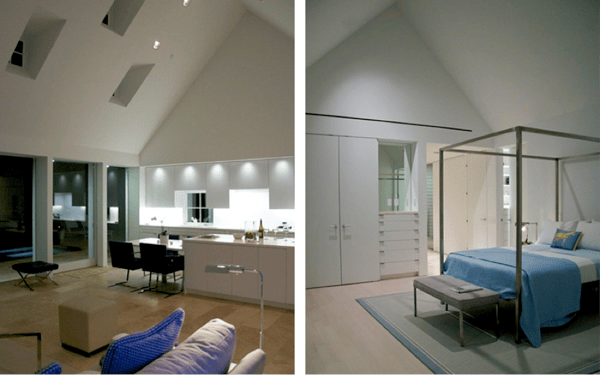 Custom homes come in many shapes and aesthetics as per the client's personal preferences. As custom homebuilders, it is important for us to always build our knowledge base for identifying what is constructible. Working together as a team, we were able to have an open forum and exchange of ideas with the intent to deliver a high quality home that meet's a client's vision.
"…When the white paint went on, it suddenly looked like a "Jacobsen House." I started the process with my head filled with nightmare stories from friends and their builders. My experience has been just the opposite. Everyone at CENTRIC has been really professional and buttoned-up." -- Jeff Atlas
In whole, the Atlas Residence was a great pleasure. Jeff Atlas had a well-thought idea and plan for his custom home. He identified and purchased an incredible location to situate his new residence. He chose an incredible designer and, early in the design phase, we were fortunate to be selected as his resource for building and permit processes. It is a true privilege to build a home that will be enjoyed for generations to come.
We want to take a moment to thank the entire team on a job well done. Cheers!