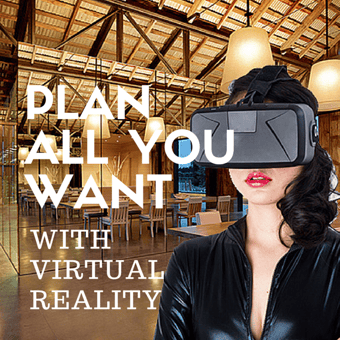 Let's imagine you are in the process of planning your dream home. If you could walk through your home prior to construction, would you? Do you think you'd make any changes? I know I am opening up this post with a lot of questions but I cannot help but think your answer would be a resounding, "Yes!"
Today, virtual reality is taking the world by storm. Also known as immersive multimedia, virtual reality creates a highly visual, computer-simulated, 3D environment. This technology creates sensory experiences where individuals may perceive themselves within an imaginary world. The Oculus Rift, a virtual reality headset, brings this immersive experience to the general public. Originally designed for gaming, the Oculus headset is affordable and proves to be an incredible asset for a lot of industries including design and construction. The headset replaces a computer or television screen and allows users to see an environment that completely surrounds them. When a user turns their head, looks up or down, they are under the illusion they are in the environment.
Envision planning your custom home with virtual reality.
Commercial design and construction professionals are experimenting with virtual reality for design, presentation, and collaboration purposes. However, virtual reality could also play a tremendous role in the design and construction of custom homes.

Some potential applications using virtual reality include:
Using a 3D BIM model, create a virtual environment of your custom home.
Coordinate and strategize your custom home's design elements prior to construction.
Walk through your home's environment prior to construction.
Provide greater feedback on your home's spatial environment as opposed to a 2D drawing.
Factor in artwork, furniture, and any other required elements into your feedback.
Work together with teams from distant locations in a virtual environment.
The Value of Virtual Reality
Ability to move building elements, visualize design alternatives in one virtual environment. Think virtual value engineering.
Reduced errors in collaboration which tend to occur with 2D renderings. The result is reduced change orders.
Team coordination is much more effective; there is less material waste.
The cost of virtual reality is significantly less when compared to making changes during physical construction.
Critical home project decisions can be made earlier.
Increased satisfaction with the end result because you have clearer understanding of design intent.
The future virtual reality in custom home planning…
Virtual reality adoption will continue increase on larger scale projects. It will be a matter of time before this technology becomes more relevant with custom home planning. It is an exciting time to be a builder!
Are you using virtual reality on your custom project? Please share your story with us in the comments section!