Building The LMR Rutherford Estate Poultry House
There is no shortage of Napa Valley restaurants serving farm-to-table fare made with fresh local ingredients. Farm-to-table, or farm-to-fork, essentially covers the process of providing fresh food to the consumer. The process includes harvesting, storage, processing, packaging, sales, and consumption. This process is closely related to the local food movement, typically fostered by agriculture, food service, and restaurant communities. For a lot of restaurants, farm-to-table fare is preferred because fresh produce and ingredients are filled with nutrients, don't have to be chemically preserved for transport, and taste great. All in all, the farm-to-table movement is a win-win-win experience from the farmer to the chef to the diner.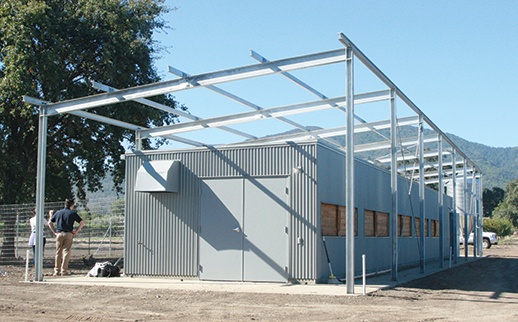 The Long Meadow Ranch's Farmstead Restaurant is one of the most influential farm-to-table restaurants in the Napa Valley. Visiting the restaurant you will find a farmhouse tasting salon, sensory garden, and small vineyard. It comes as little surprise to local area patrons, Long Meadow Ranch (LMR) decided to raise their own chickens and build a poultry house. Along with the promise of fresh eggs, the Long Meadow Ranch chickens add certain character to their farm in Rutherford.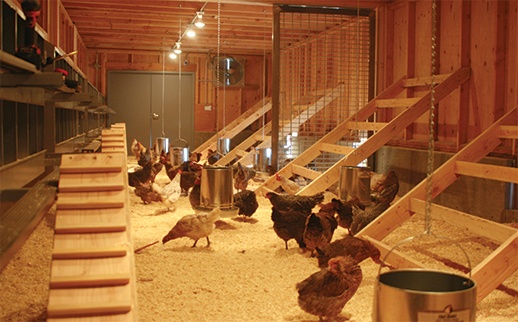 Long Meadow Ranch and Centric General Contractors teamed up to properly plan and prepare for the chickens arrival. A proper space needed to be designed to protect the LMR flock of 400 birds. The following were key areas of concern for effectively planning, designing and constructing the poultry house for our feathered friends:
Easy and Convenient Access:

Chickens need daily care.

They need fresh food, water, and their quarters need to be cleaned regularly. The LMR poultry house is designed for easy maintenance. The poultry house has storage for storing 4 tons of feed.
Elevated Nesting Areas:

The 700sf nesting area floor is 2 to 3 feet off the ground to keep the flock's feet dry during wet weather. A ramp lets chickens move freely between the poultry house and the run, while stacked double barn doors provide easy access to both spaces for cleaning.
Nesting Boxes, Roosting Perches, and Feeding: There are no cages to confine the chickens. In order for the poultry house to be in running order, you need to properly feather the nest.

100 nesting boxes and 8 total, 4 foot wide roosting perches need to be provided. Chickens are fed with farm byproducts (garden trimmings) supplemented with grain.
Interior Lighting:

Egg production ebbs when hens don't catch enough rays.

A lot of flocks stop producing completely in the winter. With a little mood lighting, the hens will continue to produce. The bulbs need to provide a warm glow as opposed to fluorescent light, which will actually prohibit the hens from laying eggs.
Ventilation: Similar to humans, if air inside the poultry house does not circulate, the chickens will get sick. The poultry house has a robust fan system that circulates fresh air during the day and in hot weather.
Critter-Proof Doors:

Raccoons, opossum, and foxes are just some of the critters that will be looking to gain access to the LMR chickens. The poultry house is equipped with automatic doors that can be programmed to open and close so birds are protected during the night while they roost.
Space to Safely and Freely Roam: Outside the poultry house, LMR chickens are free to frolic inside a fenced fruit orchard during the day without running into the local cat. The area is approximately 1 acre and contains grass, weeds, and wildflowers that abundantly fill the space between the fruit trees.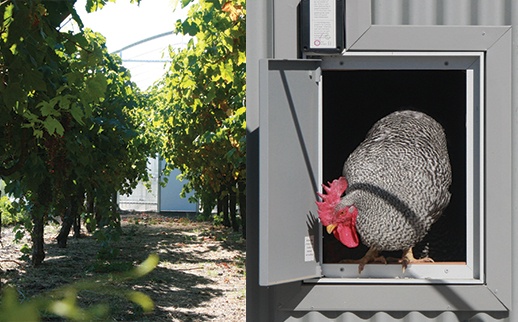 Generally, the Long Meadow Ranch chickens are healthier and will provide more nutritious, tastier eggs. In addition, chickens will be a great resource for providing much needed compost for ever-flourishing gardens. The poultry house is simply a space to ensure their continued care and feeding. Have you seen a well-run large-scale poultry house? Tell us about it in the comments section.