Do you get "turned on" by honoring our environment and helping our community? Perhaps, you'd get really jazzed with a utility bill reduced by 100%. Whichever of these ideas excite you, it is pretty clear you desire a healthy living space and value a greater quality of life. So, now that you are envisioning your new custom home and want to blend sustainable design solutions with systems for energy efficiencies, you are ready for the information provided this post.
A range of solutions can be applied to reach your desired target for energy consumption. Passive solutions such as a highly insulated building envelope, thermal mass floors, and increased natural light and ventilation are just some ideas to consider. The following images illustrate one energy efficient method for harnessing natural light through a tube; this particular product is manufactured by Solatube. System solutions may include passive panels for domestic hot water and photovoltaic panels for electricity production. Envisioning a sustainable, zero net energy custom home is not only about being mindful to use environmentally-friendly building materials, it is also about creating a home that is evergreen, with low-energy consumption.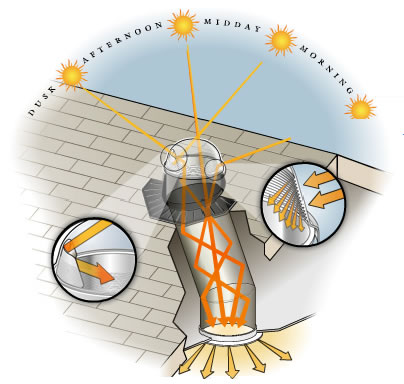 Source: Image from "Piping Light" http://www.treehugger.com/interior-design/piping-light.html, November 23, 2006.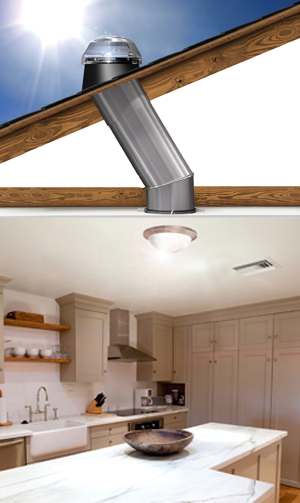 Source: Image from "The PR Job" http://lovelyleesa.blogspot.com, January 31, 2012.
The following helps you determine the right option for reaching your energy efficiency target for your custom home:
The Net Zero Custom Home: A zero-energy, or zero net energy (ZNE) custom home is a building with zero net energy consumption and zero carbon emissions annually. For an environmental comparison with regard to traditional building energy consumption, a 2006 ACEEE Summer Study on Energy Efficiency in Buildings reports that traditional structures consume 40% of the total fossil fuel energy in the US and European Union and are significant producers of greenhouse gases. A custom home with zero net energy consumption reduces carbon emissions and dependence on fossil fuels. The net zero custom home utilizes on-site renewable energy sources like solar panels. Net zero homes are still connected to the electric grid, but the energy is generated by on-site energy sources that are Net-Metered. When looking over your electric bill you will see the energy used in kilowatts decreased by the energy produced.
The Passive House: The term passive house, also known as Passivhaus in German, is an energy efficiency standard in building that aims to reduce its ecological footprint. The results of the passive house standard include ultra-low energy for interior space heating and cooling. A passive house design is incorporated within the architectural design and should consider window placement and glazing type, thermal insulation, thermal mass and shading. The windows, walls, and floors collect, store and distribute solar energy in the form of heat in the winter and reject solar heat in the summer. Unlike traditional custom homes, the passive house does not use mechanical or electrical systems to heat or cool.
Energy Efficient Custom Homes: The State of California Energy Star certified custom homes contain the following energy efficient elements: solar ready systems, O.V.E. advanced framing, tightly sealed building envelopes, high performance windows and doors, highly effective insulation, high performance HVAC systems, indoor HRV air ventilation, Energy Star appliances, fixtures and CFL lighting.
Eco Custom Home: The eco custom home incorporates Energy Star features and includes the following elements: recycled building materials, wood alternatives, sustainability harvested lumbar, formaldehyde-free finishes, low-allergen products with minimum off-gassing, minimal site disruption and low maintenance landscaping, jobsite recycling.
Hopefully, these energy efficiency options for your custom home have whet your appetite for envisioning a healthier living space. Incorporating your design targets while you are defining your custom home requirements together with your builder and architect, will help ensure a thoughtful, sustainable plan for a custom home that is timeless, friendly and healthy.