Finding a great architect is not an easy task. Whether you are looking to convert a warehouse into a living space, build an addition, or construct your ideal home from the ground up, an architect plays a critical role. Knowing the importance of this role, you do not want to leave anything to chance when it comes to realizing your custom home plans. To ensure a successful project experience, it is important to do your homework. Rest assured, it is not as difficult as it used to be. The Internet and social media are great resources to begin your search. Architect websites provide visual references and pertinent information about their unique qualifications. However, there are other things you should consider prior to making your final selection.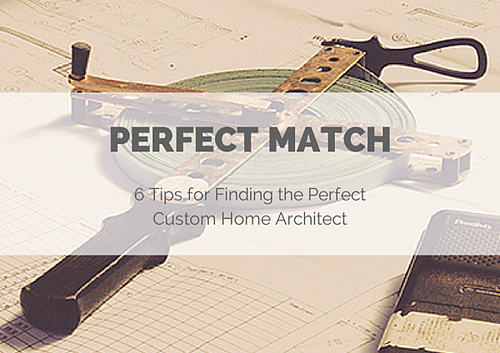 So how do you begin to find the perfect match?
Look for local references. Ask your neighbors, family and friends for recommendations. Ask the people in your community about their new home design or renovation. Gather a list of names of architects who provide services in your area. Because the relationship between a homeowner and an architect is such a personal one, most residential clients and architects find each other through personal referrals.
Qualified to perform design work. Architects are not required to be AIA members. However, an architect's AIA membership means that they subscribe to the AIA Code of Ethics and comply with required continued education requirements. In addition, they have access to a range of professional resources, which tend to ensure a higher level of service.
Demonstrates commitment for realizing your vision. What is the firm's workload? Does the firm have the capacity to take on one more project? Who is your designated home project architect? What is their philosophy on home design? What is their fee structure? What is their project track record for delivering a project that is on time and within budget? These are all questions to ask when determining whether your prospective firm will be able to realize your dream home vision.
Possesses a body of work you love. Begin your research on your prospective architect's website and social media sites. You want to see a range of aesthetics. This range will tell you whether the architect has the ability to adapt to a client's specific style. However, there are occasions when you may be looking to hire on an architect who has a signature style or sensibility. Take all of these areas into careful consideration.
Provides examples of effective project collaboration with desired team resources. A team that works together in a positive, productive manner will help to ensure project success. If you have an architect in mind, make sure you ask for past client and contractor references to get an idea as to how they interact with other team members. Ask past clients whether they were accountable for helping to ensure the project was delivered on time and within budget. Find out whether the architect initially responsible for the project was the individual who actually ended up performing the work? Ask whether the client was satisfied with the services and final results. If you are speaking with a contractor resource, ask whether the construction documents were clear and detailed enough to provide accurate pricing and allowed them to perform services in accordance with the design intent. Ask the contractor whether the architect was actively engaged throughout the project's duration. It is important to make sure the architect addresses project issues in a timely manner throughout the construction phase.
How else do you determine whether you have found the right architect? Architects, what do you do to establish a trusting relationship with current or prospective clients? Please tell us in the comments section below.